A joint venture (JV) is a commercial agreement in which two or more parties agree to pool their resources in order to perform a specific task. This activity may be a new project or any other business activity.
In a joint venture (JV), each of the participants is responsible for the profits, losses and costs associated with it. However, the enterprise is an entity in its own right, separate from the other business interests of the participants.
KEY CONCEPTS ON JOINT VENTURES
A joint venture (JV) is a business arrangement in which two or more parties agree to pool their resources in order to perform a specific task.
They are a partnership in the colloquial sense of the word, but can assume any legal structure.
A common use of JVs is to partner with a local company to enter a foreign market.
Joint ventures in Africa
Understand well what joint ventures are
Joint ventures, although a partnership in the colloquial sense of the word, can assume any legal structure. Corporations, partnerships, limited liability companies (LLCs) and other business entities can be used to form a JV. 1 Despite the fact that the purpose of JVs is typically for production or research, they can also be formed for an ongoing purpose. JVs can bring together large and small companies to undertake one or more large or small projects and agreements.
There are three main reasons why companies form joint ventures:
To exploit the resources of an area
A joint venture can utilise the combined resources of both companies to achieve the objective of the venture. One company may have a well-established production process, while the other company may have superior distribution channels.
Savings on production and fixed costs
By using economies of scale, both JV companies can exploit their production at a lower unit cost than they would separately. This is especially appropriate with technological advances that are expensive to implement. Other cost savings from a JV may include the sharing of advertising or labour costs.
Exchange of expertise
Two companies or parties forming a joint venture may each have unique backgrounds, skills and expertise. When combined through a JV, each company can benefit from the experience and talent of the other within its own company.
Regardless of the legal structure used for the JV, the most important document will be the JV agreement/contract that establishes all rights and obligations of the partners. The objectives of the JV, the initial contributions of the partners, the day-to-day operations, the right to profits and the liability for losses of the JV are all laid down in this document. It is important to draft it carefully to avoid disputes down the road.
How do you pay taxes on a joint venture?
When a JV is formed, the most common thing the two parties can do is create a new entity. But since the JV itself is not recognised by the local tax agency, the business agreement between the two parties helps determine how taxes are paid. If the JV is a separate entity, it will pay taxes as any other company or corporation does. Thus, if it operates as an LLC/SRL, profits and losses would go to the owners' personal tax returns just like any other LLC/SRL.
The JV agreement will explain how profits or losses are taxed. But if the agreement is simply a contractual relationship between the two parties, then their agreement will determine how the tax will be divided between them.
Using a joint venture to enter foreign markets
A common use of JVs is to partner with a local company to enter a foreign market. A company that wants to expand its distribution network into new countries can usefully enter into a JV agreement to supply products to a local company, thus benefiting from an existing distribution network. 2 Some countries also have restrictions on foreigners entering their market, making a JV with a local entity almost the only way to do business in the country.
Joint Venture vs. Partnership and Consortium
A joint venture (JV) is not a partnership. This term is reserved for a single corporate entity formed by two or more persons. Joint ventures combine two or more different entities into a new one, which may or may not be a partnership.
The term 'consortium' can be used to describe a joint venture. However, a consortium is a more informal arrangement between a group of different companies, rather than creating a new one. A consortium of travel agents may negotiate and offer members special rates on hotels and air fares, but it does not create an entirely new entity.
Requirements for joint ventures
Key elements of a joint venture may include (but are not limited to):
The number of parties involved
The area in which the JV will operate (geography, product, technology)
What and how much each party will contribute to the JV
The structure of the JV itself
Initial contributions and division of ownership of each party
The type of arrangements to be made once the deal is completed
How the JV is controlled and managed
What the JV staff will be like
Examples of joint ventures
Once the joint venture (JV) has achieved its objective, it can be liquidated like any other asset or sold. For example, in 2016, Microsoft Corporation (NASDAQ: MSFT) sold its 50% stake in Caradigm, a JV created in 2011 with General Electric Company (NYSE: GE). The JV was formed to integrate Microsoft's Amalga enterprise healthcare data and intelligence system, along with a variety of GE Healthcare technologies. Microsoft has now sold its stake to GE, ending the JV. GE is now the sole owner of the company and is free to pursue the business as it sees fit.
Sony Ericsson is another famous example of a JV between two large companies. In this case, they collaborated in the early 2000s with the goal of being a world leader in mobile phones. 3 After several years as a JV, the company eventually became solely owned by Sony.
Frequently Asked Questions on Joint Ventures
Why do companies enter into joint ventures?
There are many reasons to join forces with another company on a temporary basis, including for expansion purposes, new product development or to enter new markets (particularly overseas). JVs are a common way to combine the business skills, industry experience and personnel of two otherwise unrelated companies. This type of partnership allows each participating company the opportunity to scale its resources to complete a specific project or objective, reducing the total cost and spreading the risk and responsibility inherent in the activity.
What are the main advantages of setting up a joint venture?
A joint venture allows each party to access the resources of the other participants without having to spend excessive capital. Each company is able to maintain its own identity and can easily return to normal business operations once the joint venture is complete. Joint ventures also provide the benefit of shared risk.
What are some disadvantages of setting up a joint venture?
Joint venture agreements commonly restrict the outside activities of the participating companies while the project is ongoing. Each company involved in a joint venture may be required to sign exclusivity agreements or a non-competition covenant affecting its current relationships with suppliers or other business contacts. The agreement under which joint ventures are created may also expose each company to liability inherent in a partnership unless a separate corporate entity is established for the joint venture. In addition, while the companies participating in a joint venture share control, the work activities and use of resources are not always shared equally.
Do joint ventures need an exit strategy?
A joint venture aims to fulfil a particular project with specific objectives, so the venture ends when the project is complete. An exit strategy is important as it provides a clear path on how to dissolve the joint activity, avoiding exhausting discussions, costly legal battles, unfair practices, negative impacts on customers and any possible financial losses. In most joint ventures, an exit strategy can take three different forms: sale of the new business, spin-off of operations or employee ownership. Each exit strategy offers different advantages to the joint venture partners, as well as the potential for conflict.
Managing risk in Africa calmly and professionally
Thanks to important bilateral recognitions and collaborations with institutions, port agencies etc, for your economic breakthrough in Africa, AEDIC offers the opportunity to enter a safe harbour, with tax benefits and tax relief for 10 years, concessions and low cost of highly educated skilled labour in central location in AFRICA.
When you have decided to act, we provide you with all the essential risk management tools throughout the investment lifecycle.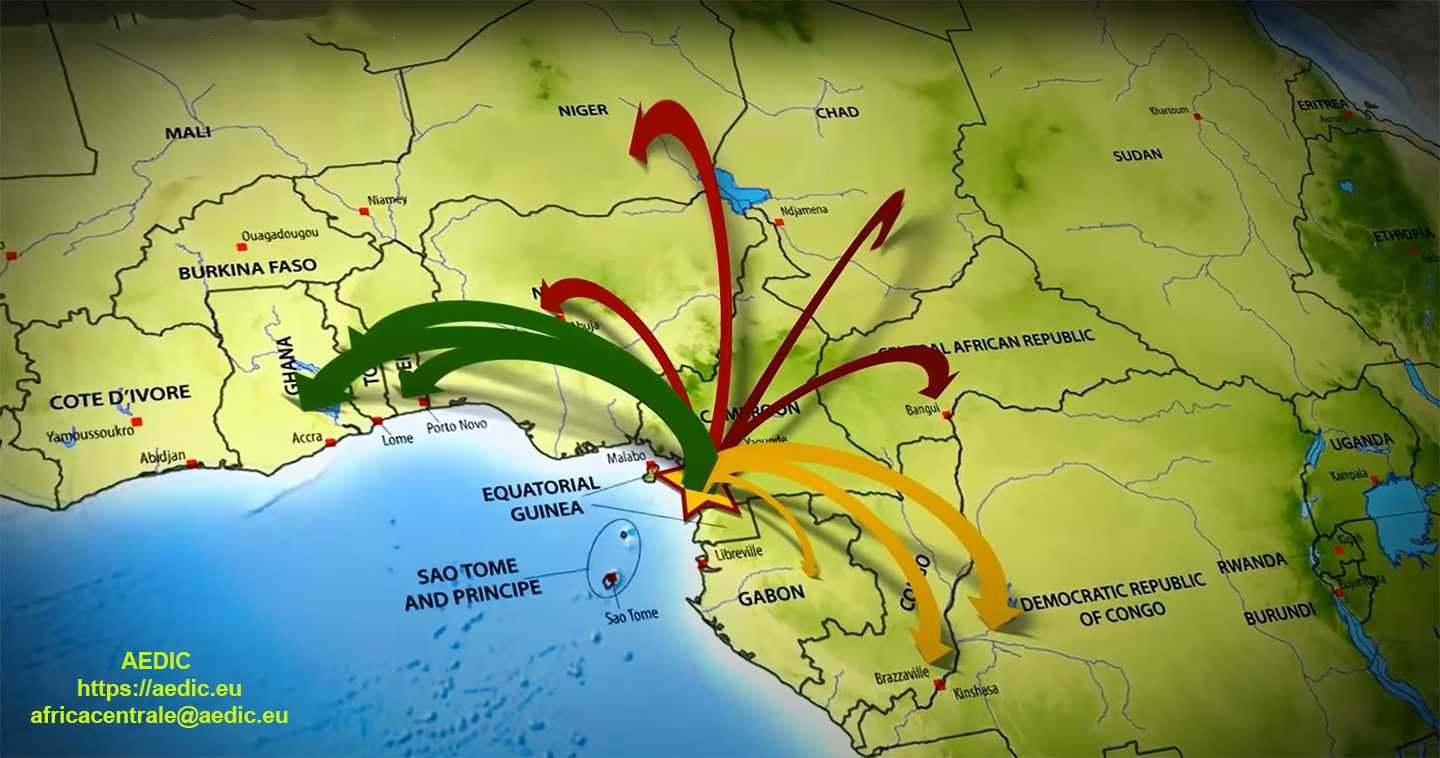 Aedic with its consultants has the opportunity to bring you into Central Africa and take a position where the industrial city of Kribi will be built.
Watch this video to better understand what we are talking about.
[su_youtube url="https://www.youtube.com/watch?v=P0savsBM0CA" title="investing in africa in Kribi (Cameroon)"]
what do you want to do now?
if you wish to get in touch with us to develop your business opportunity in Africa, please fill in the form below and one of our consultants will contact you within 24 hours
[contact-form-7 404 "Not Found"]