Cameroon's growth remained strong in 2014 at 5.3%, but fell short of the average growth target of 6% set for the 2010-20 period as set by the Growth and Employment Strategy Paper (2010-20 GESP), which aims to integrate Cameroon into the group of emerging countries by 2035.
The Cameroon Economy withstood security challenges and humanitarian crises on its northern borders with Nigeria and its eastern borders with the Central African Republic (CAR), and despite stagnating economies in OECD countries and slowing growth among emerging economies.
Cameroon's growth was driven by the secondary sector and an increased supply of energy and agricultural products.
Growth is projected to remain strong in 2015 (5.4%) and 2016 (5.5%), due to a diversification policy aimed at the development of value chains in the agricultural sector and the development of the construction sector and energy supply.
In addition to pursuing a moderately expansionary fiscal policy, the authorities have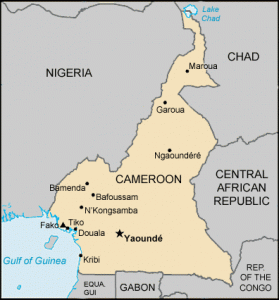 sought to mobilise tax revenues and improve returns on public spending.
They significantly reduced the poorly targeted subsidies on petroleum products and made improvements to projects. The 2013-15 budget aims to maintain the existing line of budgetary policy in 2015.
However, the drop in oil prices during the second half of 2014 and the expenditure resulting from the humanitarian crises in Nigeria and CAR forced the government to introduce fiscal consolidation measures to prevent the deficit from growing.
The 2010-20 GESP provides a framework for spatial development in Cameroon, but translating it into a proactive spatial inclusion policy is taking a long time.
Underlying tensions and a sense of exclusion of some regional communities, increased by the demographic upheaval caused by the arrival of refugees from neighbouring countries. Moreover, while large infrastructure projects are useful in terms of regional planning and development, they have placed heavy pressure on arable land and led to transfers of productive capital ownership in various rural areas.
These changes threaten Cameroon's peace and social cohesion. The areas most affected are those around the Lom Pangar and Memve'ele dams, the deep-water port in Kribi and the Mbalam iron mines in the eastern region.
In terms of trade with Italy, Italy exported goods worth EUR 14.105 million in 2014, while it imported goods worth EUR 1.318 million.
Italy mainly exported machinery and other special-purpose machinery and bakery and flour products, while importing agricultural products, and leather.