Chi è Louis Michel Nekam?
E' Presidente dell'associazione A.E.D.I.C. , grazie a lui si stanno aprendo le porte nelle piattaforme industriali in centro Africa. E' un grande conoscitore della realtà africana.
E' insegnante di Italiano, Diplomato in matematica e fisica, traduttore e Interprete di negoziazione e sta lavorando da diversi anni insieme alle Istituzioni locali e agli imprenditori per dare struttura e forma al ponte per lo sviluppo economico e culturale tra Italia e Camerun. Parla perfettamente italiano (ha il B2 certificato dall'UNI Siena), Francese e Inglese.
Il Presidente di AEDIC Louis Michel Nekam, grazie alla sua padronanza della lingua Italiana intrattiene relazioni internazionali con tutti i paesi dell'Africa per sviluppare rapporti commerciali e istituzionali nel percorso della Cooperazione Internazionale.
Il Presidente Louis Michel Nekam, ha fatto uno stage presso l'Ufficio Consolare Ambasciata d'Italia in Camerun dal 01 Marzo 2015 al 31 Dicembre 2015, da quella esperienza nasce A.E.D.I.C. .
Grazie al suo lavoro continuo e costante, la Cooperazione internazionale decentrata tra Italia e Camerun porta al realizzarsi di diverse iniziative patrocinate dai Ministeri dell'agricoltura e del commercio del Camerun e sostenute in Italia da diverse organizzazioni e istituzioni italiane.
Nel 2019 anno prepandemia covid, grazie al lavoro costante dei soci di AEDIC e del suo presidente vengono patrocinati diversi eventi che vedono la collaborazione con Regione Lombardia, A.I.C.E. e Confidustria.
Nella foto alcuni partecipanti al Forum economico tra Italia e Camerun ospitato da Confidustria a Milano.
Al centro della foto il Presidente Louis Michel Nekam con imprenditori italiani di diversi settori produttivi di Confindustria e del mondo finanziario europeo e istituzionale del Camerun e Agenzia portuale di Kribi (PAK) il porto in acque profonde del centro Africa.
The PAK si è reso disponibile a ospitare le aziende interessate a promuovere economia di scala industriale nella zona tax free dedicata all'internazionalizzazione e insediamenti IDE e Joint Venture in quell'area.
Yaoundè 2019 – Al centro della foto Il President Louis Michel Nekam ospite della presidenza della Camera dell'agricoltura del Camerun, finita la riunione per la cooperazione internazionale decentrata per lo sviluppo di opportunità per le imprese italiane che operano nel settore dell'Agricoltura 4.0. Alla riunione hanno presenziato sindaci del camerun interessati a dare ospitalità alle imprese italiane per lo sviluppo dell'agricoltura in Camerun
PROMOS Italia 2019 – Nella foto da sinistra verso destra Il vice-sindaco della città metropolitana di Bertoua Dott.Richard Messe Mpeng , Il vice presidente AEDIC Roberto de Bortoli, di seguito la Moglie e il Segretario della CAPEF Dott.Tany tachot Jacob (Camera e commercio e agricoltura del Camerun), al centro della foto, il rappresentante di PROMOS Italia Dott. Manlio Illumi, Rappresentante della ASS.Business Woman del Camerun, Rappresentante del ASS. Business Man del CIAD, Louis Michel Nekam Presidente AEDIC.
Nella foto il presidente di AEDIC in Italia insieme al segretario della Camera e commercio e dell'agricoltura mentre visitano una produzione intensiva agricola italiana nel Nord Italia.
Managing change and your expansion in Africa calmly and professionally
Thanks to important bilateral recognitions and collaborations with institutions, port agencies etc, for your economic breakthrough in Africa, AEDIC offers the opportunity to enter a safe harbour, with tax benefits and tax relief for 10 years, concessions and low cost of highly educated skilled labour in central location in AFRICA.
When you have decided to act, we provide you with all the essential risk management tools throughout the investment lifecycle.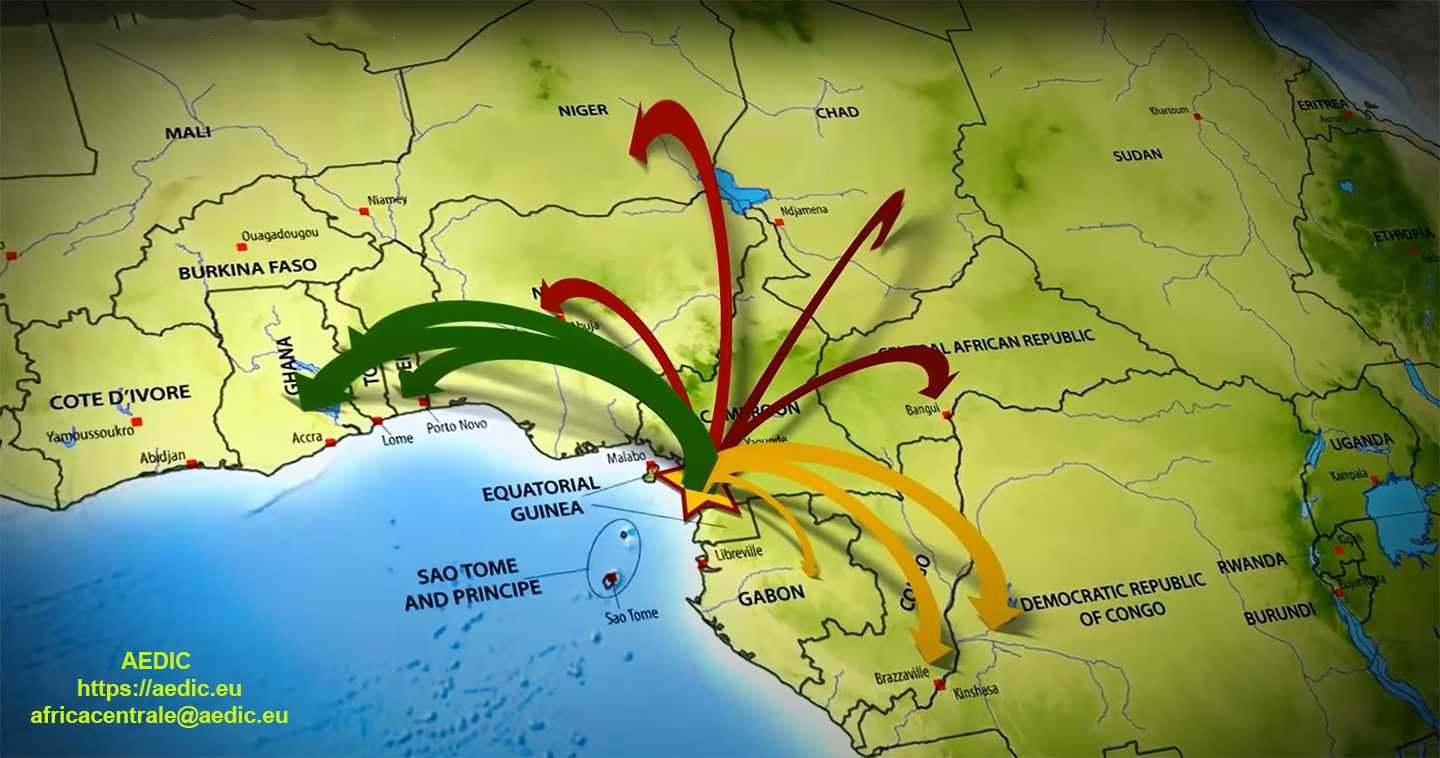 Aedic with its consultants gives you the opportunity to enter Central Africa and take a position where the industrial city of Kribi is being built.
Watch this video to better understand what we are talking about.
What do you wish to do now?
if you would like to get in touch with us to develop your Business in Africa fill in the form see below, one of our consultants will contact you within 24 hours