Scienza, tecnologia e innovazione, nonché lo sviluppo delle risorse umane sono fondamentali in Africa, un continente, che ha il più grande potenziale sulla terra, ha affermato il Primo Ministro Shinzo Abe al forum Science and Technology in Society ( STS ) tenutosi a Yokohama, mercoledì, come parte del TICAD 7.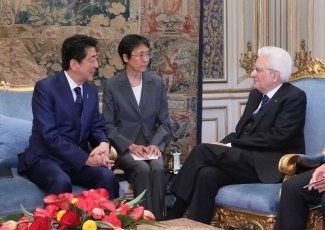 Il forum Science and Technology in Society (forum STS ) è una delle più grandi e influenti organizzazioni no profit istituite nel 2004 da Koji Omi, ex ministro delle finanze giapponese. Il forum mira a rafforzare la cooperazione tra Giappone e Africa in materia di scienza, tecnologia e innovazione.
Erano presenti il ​​sig. Yasutoshi Nishimura, vice segretario di gabinetto aggiunto, presidente della Repubblica del Sudafrica Cyril Ramaphosa, Akinwumi Adesina, presidente del gruppo African Development Bank (http://AfDB.org), Koji Omi, fondatore e presidente di il forum STS e Asako Omi, membro della Camera dei rappresentanti giapponese.
"Il Sudafrica sostiene l'attenzione su scienza, tecnologia e innovazione come tema prioritario per TICAD 7, dato il suo grande potenziale per accelerare lo sviluppo africano attraverso partenariati reciprocamente vantaggiosi con il Giappone, ha detto il presidente Ramaphosa ai partecipanti.
"Il forum STS ha cambiato con successo il discorso globale sul ruolo della scienza nello sviluppo, cerchiamo il sostegno del forum nel cambiare il discorso sul ruolo dell'Africa nella scienza e nell'innovazione", ha concluso Ramaphosa.
Adesina ha condiviso approfondimenti sul lavoro della Banca e supporto per la formazione e lo sviluppo della prossima generazione di scienziati. Dal 2005 la Banca ha finanziato oltre 2 miliardi di dollari a sostegno dell'istruzione, offrendo opportunità educative a 6 milioni di studenti.
"Siamo orgogliosi del nostro investimento a sostegno dell'istituzione del Centro regionale di eccellenza a Kigali in collaborazione con la Carnegie Mellon University, che offre corsi di laurea specialistica in ICT . Sono lieto che tutti gli studenti che si sono laureati all'università abbiano un'occupazione del 100%, compresa la creazione di attività commerciali ", ha affermato Adesina nelle sue note chiave.
La Banca ha sostenuto la creazione di parchi digitali ICT in Senegal e Capo Verde e sta collaborando con la Rockefeller Foundation, Microsoft, Facebook, LinkedIn e Safaricom per stabilire centri di codifica in diversi paesi.
Adesina ha offerto alcune aree chiave per dare priorità alla scienza e alla tecnologia, tra cui l'istituzione di centri regionali di eccellenza; l'urgente necessità di aumentare la quota del PIL dedicata alla scienza e alla tecnologia e colmare il divario di genere nell'istruzione superiore.
"Siamo visionari. Siamo audaci. Sosteniamo iniziative concrete per stimolare la scienza, la tecnologia e l'innovazione in Africa ", ha concluso.
Hanno partecipato al forum ministri della scienza e della tecnologia, ambasciatori, dirigenti di agenzie nazionali e internazionali e imprese in Africa e Giappone.
TICAD 7 va dal 28 al 30 agosto a Yokohama, in Giappone.
Distribuito da African Development Bank Group (AfDB).
Contatto per i media:
Nafissatou Diouf Dipartimento
Comunicazione e relazioni esterne
Banca africana di sviluppo
Email: n.diouf@afdb.org