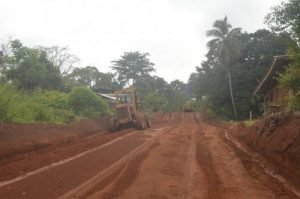 Investing in Cameroon - The PIDMA agricultural investment and market development project aimed to increase the production of maize, sorghum and cassava for the agri-food industries of the Cameroon and for which the World Bank disbursed 50 billion CFA francs will soon be added to the programme for the renewal of 190 kilometres of the country's rural roads to connect agricultural production basins to markets.
According to information gathered on 6 August 2018, during an awareness-raising seminar organised in MbalmayoIn the central region, five regions will be considered under this programme. These are precisely the centre, the south, the coast, the west and the northwest.
Durante il seminario, la World Bank e l'unità di coordinamento di PIDMA hanno deciso che i lavori saranno realizzati seguendo i contratti CEROQ (accordi di manutenzione qualificata e contratti di ristrutturazione) considerati da tutti meno costosi sia nei tempi che in danaro.
"Questo metodo è fondamentale per il Paese perché aiuterà ad entrare nell'agricoltura di seconda generazione "
ha affermato Thomas Ngué Bissa, il coordinatore nazionale di PIDMA.
Peter Tanifor, direttore dell'unità di trasporto della Banca Mondiale nella regione dell'Africa centrale, ha spiegato che i contratti CEROQ consistono nel dare priorità ai metodi di rinnovamento adeguati alle esigenze degli utenti rispetto ai metodi classici.
" Ad esempio, se il ministero dell'agricoltura indica che per spostare i prodotti da Nguélémedouka (in Oriente) a Yaoundé (nella regione centrale), l'utente ha bisogno solo di biciclette, l'ingegnere costruirà strade adatte solo per le biciclette. In breve, la strada sarà costruita in base all'esigenza della popolazione ",
così ha dichiarato .
I manager di PIDMA hanno inoltre spiegato che durante la fase di test, hanno rilevato costi competitivi e accettabili per il progetto. Il metodo costruttivo aiuterà anche ad adattare le opere in modo da garantire la redditività della strada rurale rinnovata ed evitare importanti variazioni tra i lavori da eseguire, dalla pianificazione all'esecuzione.